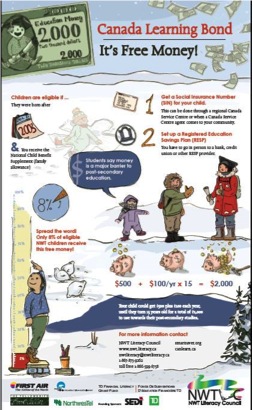 Free money with no strings attached doesn't happen very often.  So when it does, we want the people who need the money the most to get the windfall. 
The Canada Learning Bond is a national program to help lower-income families save for their child's education.  We found out about the program and the low uptake while doing research and delivering financial literacy workshops.  Only about 8% of the eligible NWT children receive the Canada Learning Bond!
More than 90% of the eligible children are missing out in up to $2,000 of free money in a Registered Education Savings Plan (RESP) by the time they are 15 years of age.
To be eligible for the Canada Learning Bond, a child's family must receive the National Child Benefit Supplement, or what we used to call the family allowance.  The child must also have been born after December  31, 2003.
We are planning an information event on the Canada Learning Bond in Yellowknife on May 12 at Northern United Place from 3 to 7 pm.  The federal government mailed notices of the event to eligible families across the NWT.  We're delighted to already get phone calls from families looking for more information.  We hope there are los more.
You can help us get the word out about the program by sharing this infographic.  We are happy to do brief staff orientation sessions about the program in Yellowknife and when we travel to communities.  We know there are barriers to families accessing the Canada Learning Bond that social agencies, teachers and others might be able to help families overcome.
The rewards are amazing.  Young people are 50% more likely to go on to further education after high school if they know there are savings to help with school expenses.  This is just one way we can help break the cycle of poverty. 
One of the big barriers in the NWT is that you can only set up an RESP in person at a bank, credit union or other RESP provider.  Most NWT communities don't have a bank.  And, many of the lower-income people in the NWT live in those small communities without banks.  As well, the person setting up the account, and the child, must each have a Social Insurance Number.
What could help families take advantage of the Canada Learning Bond in the NWT?  We would love to hear your ideas!
-- Katie Randall