February 10, 2014 - 20:03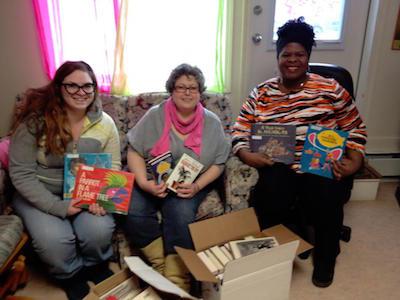 When you think of February 14th, do you think of roses, chocolates and kids giving cards to all their friends?  Valentine's Day is a great time to remind the people around us that we care for them.  At the NWT Literacy Council we use this date to share the love of reading.
This is our second year participating in International Book Giving Day.  The idea of this day is to spread the love of learning and books, especially to children.
We encourage everyone to get involved in some way. Here are some ideas.
Share used books you are no longer reading.
Hold a community or neighbourhood book exchange where everyone can share books.
Donate books to your community or school library, day care or Aboriginal Head Start.
Contact us for books to give away in your school or community.
Have your children or students write down stories and illustrate them for a friend.
Leave books around your community, in waiting rooms or other public places.
Visit http://nwtliteracy.ca/Videos%20on%20YouTube for videos on how to make different books.
In Yellowknife, we will be visiting other groups around the city who support literacy in their programs.  Last year we visited the YWCA, the Centre for Northern Families, the Day Shelter, SideDoor Youth Centre, Literacy Outreach Centre, the Tree of Peace Adult Education class and the Native Women's Training Centre.  If you would like us to visit your group on February 14th, please let us know.  
Please contact Katie@nwtliteracy.ca if you want books for a community event, and to let us know how you celebrated International Book Giving Day.  If you give a book or hold an event,  share your stories and pictures on Twitter and Facebook with the hashtag #giveabook.  Please visit http://bookgivingday.com/ for more ideas.
-- Katie Randall