September 7, 2017 - 10:03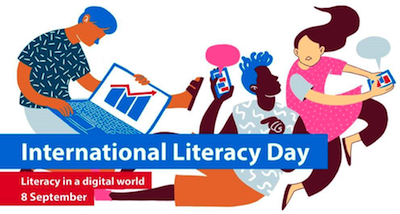 Literacy in a digital world is this year's theme for International Literacy Day, celebrated each year on September 8.
The digital world is opening up opportunities for people at home, at work, and in their community. The pace of change has been rapid. The internet has become our major source of information and connection in only a decade or so.
We often view our photos only on electronic devices. We can check all the holdings in the NWT public library system online, and read books without paper. Through YouTube we learn how to fix drywall cracks, change a washer in a leaky tap and teach someone how to ride a bike.
The world of work is changing too. With the right software program we can edit movies, keep financial accounts, diagnose mechanical problems or build websites. There are few wage-earning jobs that don't use some kind of digital technology.
The digital world also has disadvantages. It can marginalize people who don't have access to computers and smart phones, or the skills to participate in this online, plugged-in society. Governments and other organizations increasingly tell people to check a website for information that we used to get by phone or in-person from real people.
Take time to consider the good and bad of technology this International Literacy Day.  Consider where and how you might change your relationship with the digital world by decreasing your dependence, or increasing your skills to make technology work better for you.
- Kathryn Barry Paddock