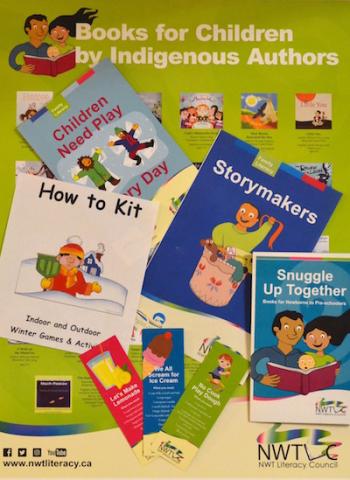 This year marks Canada's 19th year of celebrating National Family Literacy Day each January 27. Family Literacy Day is a national initiative of ABC Life Literacy Canada to raise awareness of the importance of reading and engaging in other literacy-related activities as a family.
Family Literacy Day reminds us to take time to learn together for the benefit of both adults and children. It helps us spread the word that learning can take place through a variety of different activities — reading and telling stories, playing games, going for a walk, on-the-land activities, or any quality time families spend together.
At the NWT Literacy Council, one of the ways we celebrate National Family Literacy Day is by creating new and exciting resources for families. Sometimes our resources talk about literacy development, while others include fun ideas, games and recipes for the whole family. Here's a list of resources we created for Family Literacy Day during the past few years. We hope you can find something that you haven't seen before, or be reminded of some old favourites!
Family Literacy Day 2018
This year's Family Literacy Day resources include three "Learn at Play" bookmarks to go along with this year's theme: Learn at Play. The Let's Make Lemonade, No Cook Play Dough, and We all Scream for Ice Cream bookmarks include instructions and ingredients for each recipe/activity.  We also have a new poster, Books for Children by Indigenous Authors.
Family Literacy Day 2017
In 2017 we created the resource, Storymakers, which was an instant hit. Storymakers contains different activities to encourage families to share stories together. Stories help us learn about ourselves — our culture, our language, and our traditions — and also about the experiences of others. They help us be creative and have fun. Telling stories, reading together, and sharing family stories are important family literacy practices.
Family Literacy Day 2016
We created our How to Kit: Indoor and Outdoor Winter Games and Activities in 2016. It focused on games for all ages to keep kids both learning and playing through those long winter months.
Family Literacy Day 2015
In 2015 we created Snuggle Up Together, a resource for parents, that has 100 age-appropriate book suggestions to read with your preschooler, baby, toddler or newborn, plus lots of great reading tips!
Family Literacy Day 2014
Children Need Play Everyday was created for National Family Literacy Day in 2014, and we continue to have requests for it. To help both parents and family literacy providers, this resource talks about why play is important and ways that adults can engage children in play.
You can find more resources for family and community literacy on our Family and Community Literacy Resources page.
Happy Family Literacy Day!
— Charlotte Upton