November 29, 2017 - 09:30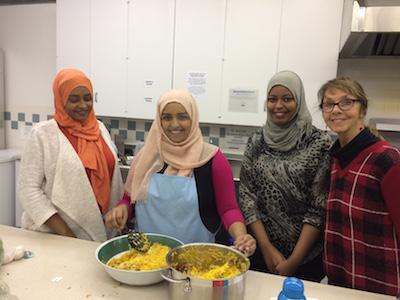 My job at the NWT Literacy Council is to set up informal literacy programs for Permanent Residents (newcomers to Canada). I was inspired by my recent tour of programs for Permanent Residents in Calgary and Edmonton. There was something for people of all ages and interests.
Programs include employment programs, after school programs, seniors' coffee times, parenting programs, conversation circles, and more. I am excited about plans here at the NWT Literacy Council to create a global music program and for global cooking, where a different person will lead each cooking session, featuring foods from their culture.
I want to introduce newcomers to what makes living in Yellowknife unique, including local Indigenous cultures. I attended a recent summit organized by the Alberta Association of Immigrant Serving Agencies, including a session focused on Indigenous cultures. One presenter, an immigrant who has been in Canada a long time, asked "how can you integrate newcomers while being silent about Indigenous people?" An Indigenous police constable from Calgary acknowledged the traumas that some Indigenous people have in common with some immigrants.
legacy of colonization
ethnocide
inter-generational impacts of trauma
poor housing
I also want to introduce newcomers to the outdoor activities that can make our long winters more enjoyable, along with the natural areas that are so accessible to Yellowknifers. In Edmonton, people can sign up for 'Wintergration,' a program that offers an activity each month so individuals and families can try sports they haven't seen before, like curling and cross country skiing. Maybe we'll also explore Yellowknife with tours of public spaces like the legislative assembly, the museum, library, and city hall.
My key takeaway from my agency tours is "It takes a community to welcome a newcomer." I'll involve volunteers, such as those who have helped already to engage newcomers in English conversation while cooking meals. To ensure volunteers are well supported, I'll use the Alberta mentorship Program's excellent on-line resources and on-line training session.
If you have program suggestions, a skill, or area of knowledge that you would like to share with Permanent Residents in Yellowknife, contact me at 873-9262 or Karen@nwtliteracy.ca.
— Karen Johnson, Integration Literacy Coordinator