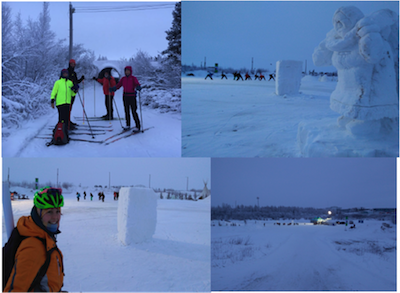 For the second year in a row, the sun didn't rise for the Inuvik Sunrise Festival.
The annual celebration signals the return of the sun after almost a month of only twilight and night. It's a full weekend of traditional dancing, a bonfire and fireworks, ice sculptures, and hot drinks, and is a staple activity of life in Inuvik. But this past Saturday, at 1:40 pm, when the sun was scheduled to peep above the horizon, we instead saw more blue-gray sky, fog, and dim light. An entire festival organized to celebrate sunlight, and we didn't have any.
Yet, the celebrations went on. Bundled bodies packed the bonfire and fireworks display on Saturday night, and the "sun-salutations" at the outdoor yoga class on Sunday afternoon were abundant. I helped organize a social ski to view the sunrise on the trails, and we had a great little group! Despite the cold and despite the dark, people showed up, smiled, and made the best of a less-than-ideal situation.
When we play as children, it's rare that clouds, improper clothing, or the "wrong" toys stop us from having fun. For me, having physical skills like running and climbing make it possible to have fun pretty much anywhere. Likewise, my creativity and storytelling are tools for exploration and enjoyment.
Resourcefulness and resilience are important traits for life in the North. Using what is available, even if it isn't ideal, and relying on your own skills and strengths are what make everyday life enjoyable. Socializing with people in your community helps answer questions and deal with unfamiliar surroundings. Connecting your talents and interests helps you solve problems and work within your environment. As a newcomer to Inuvik, I'm working to maintain my creativity and physical skills, which help me to get the most out of my experiences.
The ability to make your own fun is something very valuable. Whether you're 7 or 77 years old, curiosity and self-confidence make it possible to turn any sunless day into a bright memory.
Holly Hesk Jones is a fun-loving cross country skier who works as the Communications Specialist with the Gwich'in Land and Water Board. As well as sharing her Sunrise Festival experience, Holly took all the photos except the one of her exploring the Ice Village by bicycle. It was taken by Patrick Gall.