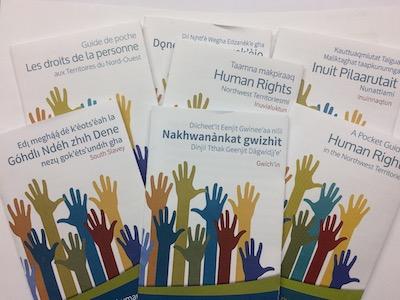 Inclusion makes people feel like they belong. Having a sense of belonging means people feel accepted and supported. This can help people understand each other better, and that helps build respect. All of these positive feelings can make people happier and healthier.
The NorthWest Company is setting a positive example of inclusion in their northern grocery stores. They are translating the names of everyday grocery items into the Indigenous languages of local communities across northern Canada.
This can help keep Indigenous languages alive in traditional territories. It can encourage elders to use their traditional language every day, and help youth learn their traditional language. This kind of project helps build a sense of pride in a person's culture and ethnicity.
In the Northwest Territories, there is a wonderful mix of languages and cultures. The diversity of our population means there are a lot of people who speak with different accents and who may use languages other than English. There are 11 official languages in our territory, more than anywhere else in Canada.
The NWT Human Rights Commission knows how important language can be when communicating with people in the territories. This year we translated our Pocket Guide to Human Rights into all of the official languages of the Northwest Territories. Whether you speak Gwich'in or Cree, or Inuinnaqtun, you can now read about your equality rights in your Indigenous language.
December 10 is International Human Rights Day. If you have questions about your equality rights, or would like copies of our pocket guide in an Indigenous language, please get in touch with the NWT Human Rights Commission.
Thanks to Marcus Jackson of the NWT Human Rights Commission for this guest blog. If you want to contact Marcus you can email him at Marcus_Jackson@gov.nt.ca or call 867-669-5575 or 1-888-669-5575.