February 21, 2018 - 09:26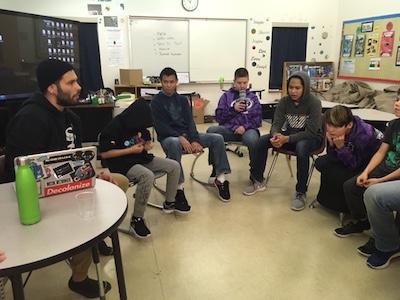 Earlier this month the Grade 6-9 class at Chief Paul Niditchie School in Tsiigehtchic learned how to write and record an original rap song. Working with Hip Hop duo, Mob Bounce, students participated in a workshop called, "Hip Hop and a Sacred Space".
During the workshop, students created and recorded an original song called, "We are Tradition." As the week drew to a close, Mob Bounce performed a rap concert and launched the students' song for the community.
The members of Mob Bounce, Craig Edes and Travis Hebert, travelled to Tsiigehtchic from Vancouver, B.C., as a result of a proposal that the Tsiigehtchic District Education Authority approved in the fall. Mob Bounce is affiliated with the group, N'we Jinan, which creates original songs and music videos with Indigenous youth across Canada.
The Tsiigehtchic students were thoroughly involved in every step of the creative process to create their original track, from adding the beats to playing an instrument, to rapping their original lyrics. Students sang collaboratively and stretched their comfort level to record their verses solo. All in all they had a fantastic week.
Their original song will hopefully become the cornerstone of a video project to showcase their lives in this small northern community. Many Beaufort-Delta residents already had the opportunity to enjoy this song, during a recent Traditional Games Summit in Inuvik.
— Thanks to Tsiigehtchic educator, Erica Thompson, for this guest blog.